If you're new to wine collecting, you'll soon become aware of the need to store your bottles correctly.
The temperature should be controlled and consistent, with both red wines and white wines requiring slightly different temperatures for drinking, but for long-term storage, store both wines at 50F.
You'll also need to ensure that no harsh light penetrates your wine bottles.
Your kitchen refrigerator does not make a serviceable wine storage solution. The temperature and humidity are not designed for wine, and there's too much light and vibration, too. Throw in the problems when you store wine vertically, and you need an alternative to a kitchen fridge.
If you're not interested in investing in a wine cooler, the best wine racks are the obvious solution.
While you may initially imagine buying a rack is one of the simplest possible decisions, you might be surprised at the number of things you need to consider when comparing the best racks.
Focus on these pointers, though, and you can't go wrong.
Type of rack: By far the most common style is the freestanding wine rack. You can leave this on the floor or pop it on the countertop. Stacking or modular racks optimize storage capacity and minimize the amount of space you need
Material: You need to look for wine racks that are solidly constructed and offer a stable storage solution for your bottles. Steel or natural wood make the best options. While they are both equally strong choices, wood may require more maintenance over time
Ease of access: Open-concept wine racks allow you to more easily access your wine bottles. Think about whether you're looking to store your wine long-term or to regularly drink it. Make sure you choose a rack with appropriate access for your needs
Capacity: Capacity is crucial when you're comparing wine racks. Think not only about your wine collection as it is today, but also how you plan it developing over time. Make sure you don't sell yourself short here
Rack design: Make sure the racks are set sideways and slightly tilted
Stability: Ensure that all the wine racks on your shortlist are stable when installed
Installation: Not all wine racks are easy to install. We understand that not everyone has access to tools, and not everyone is equipped to tackle DIY. We draw your attention to the ease of installation or otherwise with all the wine racks on our shortlist
Extras storage: If you want to store accessories or glassware, you can find plenty of wine racks that make this possible. We review several of these right below
And thinking of reviews, it's time to launch right in now with our curated collection of all the best wine racks at a variety of price points, styles, and capacities.
Enjoy!

Thebarnaclebar.com is reader-supported. When you buy via the links on our site, we may earn an affiliate commission at no cost to you.
The 17 Best Wine Racks
1.

Our #1 Pick:

 Homfa Bamboo Wine Rack
Features
Freestanding stackable
16 bottles
5 x 11.4 x 39.4 inches
When you're comparing wine racks, design is one of the most crucial elements. Homfa produces this rack in natural bamboo. Choose from a natural finish or this version in a dark espresso. The wood is coated with a spray treatment that inhibits wear.
The bottom of this unit has 4 slatted shelves, each capable of holding up to 4 bottles of standard 750ml Bordeaux.
Above this comes some hooks on which you can hang all your favorite glassware. The unit is crowned with a pair of slatted shelves perfect for any accessories like your bottle opener. You can also use the top of the unit to hold a decanter or as a showcase for your ornaments.
Although you'll be delighted with this wine rack once you have it installed, assembly is reasonably tricky. Pack plenty of patience and you'll be glad you made the effort, though. Not only is this one of the best wine racks out there, but it's also very keenly priced. What are you waiting for?
Things We Like
Things We Dislike

Stylish bamboo build
Stable and sturdy
Pair of slatted shelves
---
2. Mango Steam Wine Rack
Features
Floorstanding
32 bottles
21 x 9 x 27 inches
Mango Steam has a deep bench of storage solutions combining practicality, elegance, and affordability in one attractive package. Not only is this rack very reasonably priced, but if you act quickly, you'll benefit from an aggressive discount.
The steel rack is a floorstanding unit that won't eat up too much interior real estate despite the generous capacity. Slide in up to 32 bottles of your favorite vino and keep it stored horizontally as it should be.
All wine racks need to provide a strong and stable home for your bottles. This rack comes with floor levelers, allowing you to make sure everything is wobble-free before you start loading it up with your precious wine collection.
The tempered glass top is the perfect spot for a corkscrew, glass, or opened bottle of wine.
The exterior of the rack is smoothly finished with no visible screws to mar the clean lines.
If you don't like the idea of a wine cooler and you're looking for robust storage for a small collection of wine, this rack is a smart alternative.
Things We Like
Things We Dislike

Rugged steel construction
Tempered glass top
Floor levelers

Manufacturing could be improved
---
3. Sorbus Wall-Mounted Wine Rack
Features
Wall-mounted
6 bottles
6 x 2.6 x 2.1 inches
Sorbus is a dominant force in this vertical, and once you try their storage and shelving solutions, you'll discover why.
This is a dual-purpose wine and towel rack that makes a wise bet for any home where space is at a premium.
Now, this is a much smaller rack that will only accommodate a half-dozen bottles. If you only drink the occasional well-selected bottle and you don't need a large built-in wine cooler, this dinky rack is a good workaround.
The rack is wall-mounted so you'll keep all those wine bottles or towels out of the way, perfect in an apartment or anywhere else with limited interior real estate.
If you need more storage, the modular design of this rack lets you easily build in some more.
Although it's intended for either wine bottles or towels, we found some negative reviews from users reporting about issues with towel storage. When it comes to wine storage, testimony is positive.
As an added kicker, the installation shouldn't be too taxing either as long as you have some rudimentary DIY skills.
Things We Like
Things We Dislike

Unbeatable brand heritage
Space-saving solution
Modular set-up

Not so effective with towels
---
4. Sorbus Stackable Wine Rack
Features
Freestanding stackable
12 bottles
16 x 6.6 x 11.75 inches
Another entry from the mighty Sorbus next with this freestanding and stackable rack suitable for holding up to 12 bottles of red or white wine.
You'll get no bells or whistles here with this no-nonsense piece of kit. In return, you won't need to dig too deep for the privilege making this a great choice for bargain hunters.
The freestanding nature of this rack gives you huge scope with placement. You can pop this just about anywhere without encroaching on the room. It's small and compact in spite of the 12-bottle capacity.
For anyone looking to house a larger wine collection, there's no substitute for a wine cooler or wine fridge. If you want to keep a handful of bottles at the ready, though, this rack is a great add-on. It also makes sense if you're new to wine collecting and not sure how your hobby will develop. As a starter rack, this is perfect.
Assembly is pretty simple and you won't need any tools either.
For a stable, durable, and pocket-friendly wine rack from a brand you can rely on, Sorbus hits another homer.
Things We Like
Things We Dislike

Triple-tiered rack
Detachable and stackable
Stable rock with no wobbling

Some issues with dimensions
---
5. Decomil Stackable Wine Rack
Features
Modular stackable
72 bottles
41 x 10 x 33.5 inches
Next in our curated list of the best wine racks comes another stackable and modular solution, this time from Decomil.
The line included a wide variety of shapes and sizes suitable for a range of different wine collections. This version has enough space on the bamboo shelves for up to 72 bottles of vino.
The bamboo is free of knots. The notched and slotted shelving provides a strong and stable home for your wine collection. You could, of course, use this rack for storing other bottled beverages, too.
Unlike many wine racks, you won't need to be a DIY expert to put this unit together. All hardware comes in the package, and you won't need any tools to get started.
Unlike many wine rack manufacturers, Decomil put their money where their mouth is and warranty this rack for 1 year allowing you to buy with total confidence.
For generous storage capacity in a fairly compact wine rack, this bamboo beauty is worth exploring.
Things We Like
Things We Dislike

Notched bamboo shelves
Quick and easy assembly
1-year limited warranty

Not good for bigger bottles
---
6. DisplayGifts Store Wine Rack
Features
Freestanding stackable
36 bottles
75 x 11 x 30.25 inches
DisplayGifts Store delivers a highly effective series of wine storage solutions in a number of sizes and configurations. This freestanding stackable rack is a superb example.
The 6 rows of 6 shelves make a snug home for up to 36 regular 750ml bottles of wine. This gives you similar capacity to many wine coolers without requiring anywhere near the space to accommodate. If this sizing doesn't sound like a good fit, there are many other racks in the range to suit.
The thick pine used gives you exceptional stability in the shelving and no headaches about an expensive bottle of vintage crashing to the floor and the bottle smashing.
The manufacturer notes that Merlot and Cabernet bottles will fit in all spots. When you're placing Pinot Noir or other larger bottles in the rack, though, you won't be able to achieve full capacity.
For snug and secure accommodation for a growing wine collection, check out this pine gem from the DisplayGifts Store.
Things We Like
Things We Dislike

Natural pine finish
Assembly in minutes
For all standard wine bottles
---
7. O&K Furniture Industrial Wine Rack Table
Features
Floorstanding
16 bottles
4 x 15.7 x 34 inches
Next in our quest for the best wine racks is a floorstanding solution from O&K Furniture that deserves a mention.
Anyone who wants their wine collection on open display in a living area will appreciate this unit that's made over to wine storage while also allowing you to stash ornaments, accessories, and glasses onboard.
Measuring 40 inches across, this is a wide unit so make sure you have space for it.
The build is solid considering it's not real wood, but manufactured MDF boards. It's treated to look like a striking modern piece of furniture rather than a tediously functional wine rack.
The MDF is complemented by some robust metal struts and racks to keep all your wine protected and securely stored.
You get all the hardware you need for assembly thrown in.
While the vast bulk of user feedback concerning this model is positive, we came across a few gripes about the quality of the laminate tabletop. Overall, though, you're getting great value here and a tabletop wine rack that gives you great flexibility.
Things We Like
Things We Dislike

Open storage solution
Tabletop and shelving
MDF and metal

Laminate top is a let-down
---
8. JK Adams Wine Rack
Features
Floorstanding
40 bottles
16 x 11.5 x 7.25 inches
If you have a growing wine collection you'd like stored correctly, you need to decide whether to opt for a wine rack or a cooler. If you don't have the space or the inclination to chill your wine, this rack has the capacity for up to 40 bottles.
If you're looking for an eco-friendly wine storage solution that's also easy on the eye, you'll appreciate the sustainable ash wood and driftwood this rack is made from.
You'll get plenty of freedom when you're assembling this rack. The modular build can be configured in a variety of ways to suit your storage needs. Crisp and clear instructions make this simple and you won't need hardcore DIY skills to put this unit together.
Easy to use, the rack is just as forgiving when it comes to maintenance. Just wipe the shelves down with a damp cloth and that's all that's required.
For anyone still unsure whether to invest in this wine rack, there's a no-quibbles satisfaction guarantee in place. If you're unhappy with the rack or it lets you down in any way, just call in for a no-questions refund. You can't really ask for more than that.
Things We Like
Things We Dislike

Ash wood and driftwood
Easy to care for
100% satisfaction guarantee
---
9. mDesign Wine Rack
Features
Freestanding stackable
4 bottles
6 x 8 x 4 inches
mDesign has something for anyone looking for makeshift wine bottle storage on a budget. If you want some decorative racks and shelves that also double as storage space, this is not for you. For anyone requiring the ability to stash a few wine bottles horizontally, however, this rack might be worthwhile.
The plastic build is certainly not to everyone's liking. That said, functionality is beyond reproach. As you'll know even if you're new to wine collecting, you should avoid storing wine bottles vertically. With the liquid no longer contacting the cork, this can dry out and debris from the cork can make its way into your wine. Sidestep this fate by laying up to 4 bottles of vino on their sides.
Each stackable rack holds 2 bottles of wine, and you'll get a pair of these racks included here. While it's not the best way to build out storage for a large collection, you could easily bundle a few racks together for a more modest selection of bottles.
The plastic is free of BPA and also completely shatterproof.
Although you won't be able to slide the racks into the dishwasher, all you need to do is wipe them down with some warm soapy water.
Things We Like
Things We Dislike

Shatterproof BPA plastic
Compact rack
Stackable for more storage

Not the best-looking rack
---
10. Gongshi Stackable Wine Rack
Features
Freestanding stackable
12 bottles
6 x 6.7 x 12.9 inches
If you need some freestanding or countertop wine storage, navigating the best wine racks can be challenging. Unfortunately, there are many poor quality racks glutting the market, so stick with this stackable model and you're in good hands.
You won't get any of the wobbling or movement that can vibrate and disturb the sediment in your wine bottles. Instead, store up to 12 bottles of wine on the 3 layers of shelving. You can use these layers individually or as one modular unit.
The iron shelving is finished with a classic bronze, although you could also opt for a more decorative and ornate bronze finish if you want something more elaborate.
Despite offering you the space to house a dozen wine bottles, you won't need too much room for this rack, ideal if you're operating with space constraints.
If you can negotiate the pretty tedious assembly involved here, you'll end up with one of the best wine racks in this class.
Things We Like
Things We Dislike

Classy bronze finish
No wobbling or vibration
Reasonably compact
---
11. Kamenstein Butterfly Wine Rack
Features
Countertop
8 bottles
6 x 6.75 x 11.25 inches
Kamenstein produces a neat and compact countertop wine rack perfect if you live in an apartment or you have limited space but you're not prepared to compromise on keeping your wine collection at its best.
Unlike some of the racks on our shortlist, you can get going right out the box here. No assembly is necessary.
The rack makes a strong visual statement with its butterfly shelving. You can fit 8 bottles inside this rack making it a smart bet for small and well-chosen collections you want impressively showcased.
Easy to clean and built to last the distance, this simple rack is also very keenly priced, and it's currently available at a steep discount. Act quickly and grab yourself a real bargain.
Things We Like
Things We Dislike

No assembly required
Horizontal storage
Durable yet lightweight
---
12. Sorbus Freestanding Wine Rack
Features
Floorstanding
100 bottles
75 x 7.75 x 39.5 inches
If you have a swelling wine collection that you want neatly organized with all bottles stored horizontally, this floorstanding unit from industry heavyweight Sorbus is a must.
This is one of the most spacious racks you can find with room for up to 100 bottles of vino. As with all capacities quoted, this reflects standard-sized 750ml bottles of Bordeaux. With larger bottles, you'll obviously fit far fewer in. There are smaller and larger racks available if this isn't suitable meaning you're spoiled for choice by Sorbus.
Despite the sprawling size, you won't need much time or trouble to put this rack together. Instructions are precise and you'll get all the hardware you need in the package.
The sturdy metal shelves are scalloped and keep your wine bottles securely in place for however long you choose to lay them up. You'll get 10 tiers of these shelves.
As you would expect from such a towering wine rack, this eats up quite a lot of space so make sure you have the room before committing to purchase.
Things We Like
Things We Dislike

Enormous capacity
Easy to put together
10-tier shelving
---
13. Rustic State Wall-Mounted Wine Rack
Features
Wall-mounted
5 bottles
2 x 11.3 x 10.25 inches
Wall-mounted wine racks are wonderful space-savers, and this nifty little example from Rustic State is an asset to any kitchen.
In the interests of accuracy, this is a great rack in terms of aesthetics, but it's not the strongest performer when it comes to capacity. You'll only have the space for perhaps 4 or 5 bottles on the rack, so it's no use if you have a larger collection of bottles.
The other serious drawback concerns installation. A handful of users have outlined difficulties getting this rack in place. If you struggle with practical tasks, avoid this rack.
Not only does this rack hold your wine bottles, but it's also designed to accommodate all your favorite glassware, too.
The walnut finish is a striking addition to your room, but only you know if you're prepared to deal with awkward installation and the limitations in terms of capacity.
Things We Like
Things We Dislike

Space for bottles and glasses
Eye-catching design
Rustic walnut build

Not the easiest installation
---
14. WGX Design For You Wine Rack
Features
Wheeled cart
72 bottles
5 x 27.5 x 16 inches
As we edge to the end of our search for the best wine racks, something slightly different.
Rather than a regular wine rack, this table with casters doubles as furniture or a serving trolley. The wheels, of course, lock into place when not in use.
Despite looking like a small table, there's space for up to 72 bottles of wine across the 3 shelves.
This set-up is designed so you could even pop a mini fridge on top of the shelving giving you an all-purpose serving and storage solution without bankrupting yourself or taking up too much space.
The portability of this wheeled unit is also beneficial.
All that lets this storage rack down is the instructions which leave something to be desired. You might find yourself seeking guidance online when it comes to installation. This minor niggle aside, you're getting a versatile and effective wine rack with a twist.
Things We Like
Things We Dislike

Exposed wine storage
Lockable wheels
Generous storage capacity
---
15. Mango Steam Wine Rack
Features
Countertop
6 bottles
8 x 7.8 x 5.6 inches
If you have a small collection of carefully-chosen wine bottles, chances are you don't want a large, built-in wine cooler. Instead, this small rack will keep your bottles horizontally stored and vibration-free. All you need to concern yourself with is the temperature.
You won't need to bother about assembling this countertop unit. Just pop it on your cabinet or counter, or set it down on the floor. You can put this thing just about anywhere.
The steel shelving is robust enough to last for years, and it's finished in matte black to soften the utilitarian appearance.
You'll have space for just 6 bottles here, so if you have a larger or growing collection, we would suggest browsing some of the more substantial wine racks on our list.
Things We Like
Things We Dislike

No assembly needed
All-steel build
Use horizontally or vertically
---
16. Muscle Rack Wine Rack
Features
Floorstanding
24 bottles
18 x 14 x 35 inches
If you're shopping for wine racks with more of a focus on functionality than aesthetics, Muscle Rack is a smart solution.
This floorstanding rack gives you the space for up to 24 of your favorite wine bottles, giving you reasonable scope if you're just starting out with wine collecting.
Chrome shelves are scalloped to snugly hug your wine bottles. You can tweak the shelves in 1-inch increments so you get plenty of latitude to configure the rack to accommodate the bottles you have in mind. Each of the 6 shelves holds 4 wine bottles.
Assembling this rack is straightforward and all you'll need is a rubber mallet for the swiftest and easiest installation. Padded and adjustable feet are leveling to give you a strong and stable foundation.
Things We Like
Things We Dislike

Scalloped wire racks
Compact but decent capacity
Straightforward assembly

Fit and finish could be better
---
17. Rebrilliant Industrial Wine Rack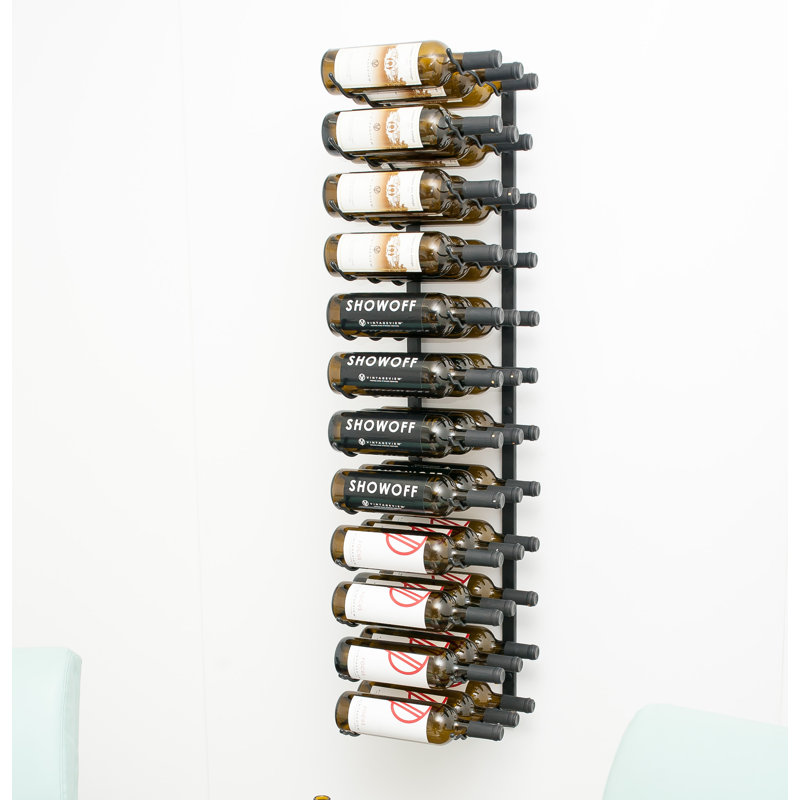 Features
Wall-mounted
36 bottles
48 x 13 x 12 inches
To round out our collection of the best wine racks out there, Rebrilliant serves up an industrial-grade wall-mounted model perfect for minimalist or traditional homes.
The wall-mounted design of this rack enables you to house 36 of your favorite bottles of wine without eating up too much space in the kitchen. This rack proves there are more storage options at your disposal than a large dual-zone wine cooler.
Made from cold-rolled steel, you'll get the strength and stability you need to keep your precious bottles resting securely in place.
Unlike some wall-mounted wine racks, this one is especially easy to install, so you'll be up and running in minutes. That said, you'll need to make provision for mounting hardware as this doesn't come bundled.
Shelves run 3 deep, and you can slot 12 bottles in each tier. This allows you to organise your collection so you can access the bottles you need quickly and easily.
For a great all-rounder ideal in cramped kitchens or apartments, this space-saving rack from Rebrilliant deserves a place on your shortlist.
Things We Like
Things We Dislike

Space-saving rack
Cold-rolled steel
Easy to install
---
Conclusion
Perhaps you arrived here at Barnacle Bar today unsure whether you wanted a wine cooler or a wine rack. Now you've had the opportunity of browsing all the best wine racks at a variety of price points, you should hopefully be clearer on which type of wine storage makes the best fit for you.
If you choose any of the racks above, you'll know exactly what you're getting for your money. If you come across some wine racks we didn't review today, we hope you find our buying guide comes in handy when you're shopping.
We're a new site, but we're committed to bringing you all the best content to help you navigate the accessories you need for your wine collection, from aerators and corkscrews through to dual-zone wine coolers. Take a moment to bookmark Barnacle before you head off and be sure to come back soon!