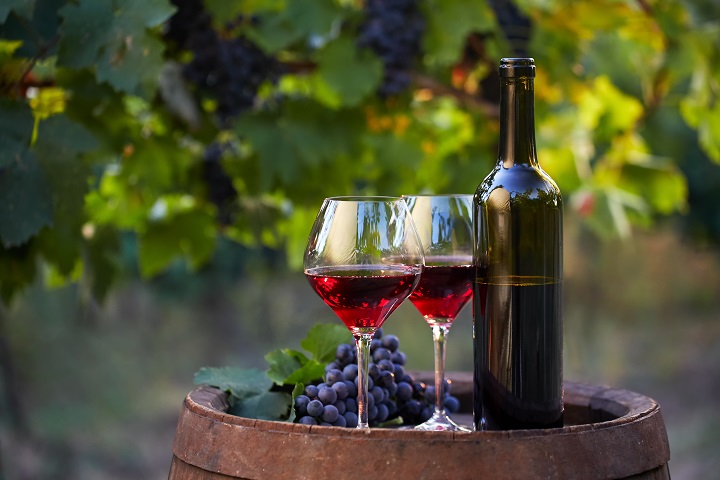 When you start drinking wine, it will rapidly become apparent that you need some basic equipment and accessories.
Firstly, you'll need a corkscrew or wine opener to uncork your vino fuss-free.
Introducing your wine to oxygen brings out the best in the flavor profile and also enhances the aroma. Grab yourself a wine decanter or an aerator, and you'll aerate your wine like a sommelier without needing to wait around for hours.
For storing your wine, a wine cooler is a smart investment. Opt for a dual-zone cooler if you enjoy both red and white wine.
With the above basics in place, you have everything you need to start collecting wine, but to drink it you'll need the best wine glasses.
When you're shopping for glassware, it's worth paying a little more to maximize your chances of getting wine glasses that will last for years rather than letting you down in a few weeks.
As a general rule of thumb, white wine responds best to a narrow bowl. This allows more of the flavor and aroma to make its way toward your nose. For red wine, use glasses with a more bulbous bowl. This will allow the more substantial flavors to emerge. Large bowls also allow red wine to aerate, crucial for softening out the tannins and enhancing the overall flavor and bouquet.
Type of wine you drink: Before you start comparing the best wine glasses, consider what type of wine you drink. This will dictate the type of glassware that makes the best fit. Remember, long stems and narrow bowls work best for white wine, while wide glasses are ideal for red wine. Stemless glasses may look great, but you'll be holding the bowl and this will warm your wine, less than ideal with whites in particular
Ease of cleaning: Look for dishwasher-friendly glassware to make your life easier. Avoid any glassware with a reputation for being tough to clean
Aesthetics: When you're comparing glassware, one of the most important differentiating factors between broadly similar wine glasses is the way they look. It makes sense to choose glasses you find attractive
OK, if you bear these basics in mind, you shouldn't have any real issues finding the best wine glasses for your circumstances. Whether you're looking for daily drinking vessels or special glassware to roll out for dinner parties, we have something for everyone today.
Dive in right now and explore our curated shortlist of the finest glassware out there.
The 15 Best Wine Glasses
1. Our #1 Pick: Schott Zwiesel Wine Glasses
Features
Cabernet
540ml
6 x 3.6 x 9.6 inches
Our overall favorite wine glasses from the cross-section we review come from Schott Zwiesel.
You can choose from a wide variety of different styles and sets. This pack of 2 cabernet glasses are perfect for sharing a glass of red over dinner with your loved one.
As well as bringing out the best in full red wines, you'll also benefit from drinking full-bodied whites and enjoying them at their finest.
Made from Tritan crystal, you get zirconium oxide and titanium oxide in place of lead.
The capacity of these glasses is pretty generous at 540ml. This translates to just under 20oz, so you'll be free to serve guests a generous helping of your favorite bottle of Borolo or cabernet sauvignon.
Like all the best wine glasses, you can pop these in the dishwasher safely to minimize the hassle of clean-up.
While, like most wine glasses, you'll need to handle these with care, you'll be getting some eye-catching glassware that allows you to enjoy the hidden qualities of your favorite reds. If you prefer white wine or champagne, the manufacturer also has plenty to offer on that front. Explore the range and enjoy!
Things We Like
Things We Dislike

For full, young reds
Dishwasher-friendly
Unbeatable brand heritage

Not the most durable glasses
---
2. Riedel Veritas Chardonnay Glasses
Features
Oaked chardonnay
620ml
75 x 5 x 11.2 inches
Riedel is one of the most illustrious names in the glassware vertical. The company has been in business for 300 years – you don't get much more established than that.
These oaked chardonnay glasses are attractive enough to use for a dinner party, but versatile and durable enough to use on the daily.
The oversized capacity of these glasses allows you to pour in up to 620ml of your favorite vino. This works out to just over 21oz, so nobody will be complaining about small servings. The size of the bowl is designed to allow all the aromas in your wine to develop without the danger of over-concentration.
While many manufacturers heavily market the hand-blown aspect of their glassware, Riedel produces glassware by machine. Losing out on the artisanal element brings with it one very enticing advantage: absolute precision. That said, we found some isolated complaints about visible glass-forming lines.
Like all Riedel glassware, you can pop these glasses in the dishwasher fuss-free.
If you're hunting for great glassware that you can use every day with dinner, but still looks good enough for a special occasion, it's got to be Riedel.
Things We Like
Things We Dislike

Ideal for daily use
Light and fine oaked glass
Machine-made precision
---
3. Zalto Denk'Art Hand-Blow Wine Glasses
Features
Red and white wine
530ml
11 x 11 x 8 inches
Next up we have some arresting hand-blown glassware from Zalto Denk'Art. How do these glasses shape up, then?
Firstly, these are multipurpose glasses you can use comfortably with either red or white wine. If you exclusively drink red or white wine, you would be better advised to get some specialist glassware. For lovers of mixed wine, though, functional glasses like these save you space in a crowded kitchen.
You get a set of 2 hand-blown glasses, and they really are quiet expensive. If you're looking for bargain glassware, these are not for you. There is also a set of 6 glasses available if you need to cater for the whole family.
The thin lip of these glasses is pleasing, and the design of the bowl brings out the best in most types of wine without compromise.
Despite the delicacy of the build and the sleek aesthetics, these glasses are dishwasher-safe and reasonably durable.
The 530ml capacity equates to just over 18oz. You and your guests can enjoy generous servings and get the very best out of the wines you serve.
Things We Like
Things We Dislike

Ideal for all wines
Lead-free and hand-blown
Dishwasher-friendly
---
4. Riedel Ouverture Wine Glasses
Features
Red wine
350ml
25 x 3.25 x 7.4 inches
Next up comes another entry from the inimitable Riedel with the Overture series of glasses. This iteration of the glasses is intended for bringing out the best qualities in red wine. The manufacturer caters for a huge range of other beverages, too.
The design of the bowl helps release all the flavors and aromas locked into your favorite red wine.
Capacity is just under 12oz (350ml), so you'll have the ability to enjoy a good-sized serving after a hard day at the office.
Ideal for daily use, these glasses won't need to be stashed away for best, and they are reasonably durable as well.
When it comes to cleaning up, slip these wine glasses in the dishwasher for hands-free maintenance.
The only real drawback of these glasses concerns the size. They are pretty dainty, so if you prefer bigger servings, we'd suggest exploring the rest of the Riedel range, or opting for some of the other glasses on our shortlist.
Buy from a company with 300 years in the business and you can be confident of enjoying all your wine at its very best.
Things We Like
Things We Dislike

Shaped to release aroma of reds
Suitable for daily use
Dishwasher-friendly
---
5. Spiegelau White Wine Glasses
Features
White wine
435ml
4 x 3.4 x 8.8 inches
Spiegelau is another highly reputable name in the glassware space, so how do these wine glasses perform?
Unlike some of the higher-end glassware on our shortlist, this brand manages to deliver quality without blowing the budget. These glasses are not throwaway cheap, but they represent great overall value, especially in this set of 4.
The crystal is completely lead-free, allowing you to sup your wine with a clear conscience. The bowl is transparent and colorless, and this connects seamlessly to the stem with none of those visible lines that mar the overall aesthetic with cheaper glassware.
Break-resistant and shimmering more brilliantly than most of the opposition, these glasses are intended for white wine. That said, Spiegelau offer plenty of glassware perfect for red wines if that's your preferred tipple.
Tested over 1500 cycles of a dishwasher, these glasses remain flawless, so you'll get stress-free maintenance without worrying about a degradation in quality.
This company has been in business for 500 years producing first-class glassware: you can't beat that for brand heritage.
Things We Like
Things We Dislike

Set of 4 for value
Lead-free crystal
Unbeatable brand image
---
6. Riedel Vinum Cabernet Set
Features
Cabernet
965ml
6 x 3.6 x 9.6 inches
Next up in our curated list of the best wine glasses comes this cabernet set from the ever-reliable Riedel. As you'll now see clearly, this brand has a hard-won dominance in this space thanks to one simple reason: the excellence of their glassware.
While this set of 4 glasses might not be the cheapest you can find, how have your experiences been with cheap glassware? If you're anything like us, cheap and flimsy glasses tend to last a matter of weeks rather than years. Kiss goodbye to the tedium of continually glassware shopping, and usher in some top-grade glasses you won't want to hide away in the cupboard.
Make no mistake about it, these glasses are big. You can fit just under a liter of wine inside making them perfect for movie night or a dinner party.
The machine-blown lead crystal is reassuringly heavy and built to stay the distance.
Most user testimony concerning these glasses is positive, although we find some isolated complaints about a lack of consistency.
Overall, this set of XL glasses from an industry legend is well worth the investment, whether for yourself or for a wine lover in your life.
Things We Like
Things We Dislike

Oversized glasses
Bumper set of 4
Dishwasher-safe
---
7. Libbey Vineyard Reserve 12-Piece Wine Glass Set
Features
Red and white wine
510ml
25 x 15.9 x 10.25 inches
As we push through with our search for the best wine glasses, we have a comprehensive set of 12 pieces of glassware from Libbey Vineyard. How do these things perform?
Firstly, you manage to get the best of both worlds here with 6 Merlot Bordeaux glasses for your red wine and 6 slightly smaller chardonnay Chablis glasses ideal for sipping white wine at its best.
These glasses are fairly robust, and they'll also stand up to dishwashing.
The scope and quality of this set makes it a great choice if you're stuck for gift ideas for the wine lovers in your life.
All glass is lead-free for your peace of mind.
User reviews concerning the glasses are uniformly positive, but we can't say the same for reports about quality control. Several consumers report receiving damaged glassware, so we would advise checking the contents of your package closely upon receipt.
Things We Like
Things We Dislike

Variety of glasses
12-piece set
Lead-free glass
---
8. Gabriel Glas Wine Glasses
Features
Red and white wine
225ml
9 x 3.5 x 9 inches
This is the first of a pair of entries from Gabriel Glas with a set of 6 universal wine glasses. If you have limited space at home and you enjoy drinking both red and white wine, it makes sense to compromise with some glassware designed to bring out the best in each type of wine. Gabriel Glas nails this completely.
This is the StandArt edition of glassware featuring molded glass.
The 8oz capacity is among the smallest of the glasses we review today. If your idea of relaxing after a tough day involves a huge schooner of wine, these will leave you feeling shortchanged. Bear this in mind if you're gifting these glasses, too.
The shape of the bowl allows the wine to freely flow over your palate. The result is a more focused delivery than you'll experience in bulbous, bowl-shaped glasses.
You get a broad and stable base combined with a narrow opening that allows you to appreciate the flavor and aroma of all wines.
The primary drawback of these glasses is that they are reasonably fragile.
Things We Like
Things We Dislike

Universal wine glasses
Curved for decanting
Broad base and narrow opening
---
9. Gabriel Glas Wine Glasses
Features
Cabernet
540ml
6 x 3.6 x 9.6 inches
Do you exclusively drink red wine, or do you want a dedicated set of red wine glasses to complement your white wine glassware? If so, put your trust in Gabriel Glas.
The Gold Edition glasses are mouth-blown. You'll get the same diminutive 8oz capacity as the set of glasses above, but these are almost half the weight of the thicker StandArt Edition glassware.
Despite this lightweight nature, the glasses are reassuringly rugged.
The rim of this glass concentrates the aromas of your wine, while the curves help to instantly decant wine. You'll then expose the wine to a decent amount of air. This doesn't remove the need for using a wine aerator, but rather complements it.
While you may not notice a huge difference with cheaper wines, the design of this glassware comes to the fore when you're drinking wine with more subtle and delicate flavor profiles. The focused distribution helps you to pick up notes that may otherwise be hidden.
The only real complaint we could level at this set of glasses is the pricing, but if you can afford it, you won't be satisfied.
Things We Like
Things We Dislike

Mouth-blown glass
Durable but elegant
Set of 6 glasses
---
10. Bormiolo Rocco Wine Glasses
Features
Red wine
510ml
6 x 8.9 x 9.5 inches
Bormiolo Rocco serves up some superb glasses ideal for red wine lovers. How do this glassware differentiate itself, then?
The first thing that strikes you is the delicate and understated design. The laser cut glass features very thin rims, ideal for sipping your red wine without feeling like you have a mouth filled with glass.
Unlike white wine glasses, these are designed with an extra-wide bowl, allowing you to swirl your drink fully and to appreciate the range of aromas.
Although this glassware is quite delicate to look at, it feels reasonably heavy in the hand.
When you're done drinking, these glasses slip into the dishwasher for hassle-free clean-up. Alternatively, rinse with some warm, soapy water and you're good to go.
The set of 4 glasses all have an 18oz capacity. This gives you enough leeway to pour in the better part of a bottle of wine. The best thing? These glasses are priced firmly in budget territory.
Things We Like
Things We Dislike

Laser cut
Thin rims
Dishwasher-friendly
---
11. Luigi Bormioli Atelier Wine Glass
Features
Pinot noir
596ml
66 x 12.99 x 8.86 inches
If you're a pinot noir lover and you're looking for some great wine glasses that will stand up to plenty of rough and tumble, Luigi Bormioli Atelier serves up this neat set of 6 glasses.
Made from machine-blown, lead-free crystal, you get the smooth and consistent finish you would expect and a set of glasses that look great on the wine cabinet.
The stems of these glasses are reinforced with titanium to minimize the chance of any breakage in this weak point of any glass.
The rims are laser-cut, so you'll get the best experience when you're drinking your wine.
Capacity is 21oz, which translates to 596ml, giving you enough space for a large glass of your favorite vino after a hard day at work.
If you hate scouring wine glasses when you've finished up for the evening, you'll appreciate the dishwasher-safe nature of this set.
A few disgruntled customers report receiving packages containing at least one damaged glass. As with all glassware you order online, check the contents of your delivery closely. Overall, though, you're getting some great wine glasses at a reasonable price point, and the robust construction means you should get plenty of faithful service from this glassware.
Things We Like
Things We Dislike

Shatter-resistant
Laser-cut rim
Dishwasher-friendly

Quality control issues reported
---
12. Riedel Vinum Cuvee Prestige Wine Glass
Features
Champagne
230ml
7 x 2.7 x 8.7 inches
If you're a champagne lover, you'll need the right glassware to bring out the very best in your bubbly.
Riedel is an industry legend with over 300 years of experience making glassware. Indeed, this family-owned firm was responsible for inventing stemware dedicated to certain varietals. The company's innovation is widely copied but rarely bettered.
As would expect, this set of two glasses certainly isn't cheap, but you'll still get the pair for not much more than a bottle of champagne, so when you view it through that lens, this glassware doesn't seem so expensive.
Beyond that, when you taste your champagne in these flutes, you'll understand why buying varietal-specific stemware is well worth giving a try.
These glasses are machine-made, so you'll get total precision and consistency of build throughout.
When you top the flutes up with your favorite champagne, you'll find both the texture and the trademark bouquet are intensified.
When you're looking for glassware, buying on a budget doesn't always work out so well. If you're buying glassware for champagne, particularly, it's well worth spending a little more. Not only will the glasses work wonderfully for any dinner parties, but you can also treat yourself to a bottle of bubbly at its best.
Things We Like
Things We Dislike

Elegant curves
Impeccable brand heritage
Enhances your champagne
---
13. Harmony Wine Glasses by Rastal
Features
Red wine
414ml
79 x 7.28 x 4.41 inches
Harmony offers a choice of glassware. Choose from red wine, water, or spirits glasses.
You get a set of 6 glasses, ideal for the whole family. While these glasses are not especially flashy, they make great everyday drinking vessels.
The wine glasses have a small mouth that tapers to a bulbous and oversized bowl. This allows you to benefit from the full bouquet of your favorite wines, and it also helps you to aerate your wine, perfect if you don't have a decanter or wine aerator on hand.
Stemless, these glasses feature clean, stark lines and make a great fit in both traditional and more modern kitchens.
A few consumers have complained about the thickness of the seams on these glasses, but that's a minor gripe among a sea of positive user testimony.
While you can use these wine glasses for all types of wine, they work best with your favorite reds. As with all red wine, you should aerate it before serving, but if you don't have that option, the design of these glasses will offer you the next best thing and the ability to swirl your wine around.
If you don't mind those seams, these pocket-friendly wine glasses are well worth a place on your shortlist.
Things We Like
Things We Dislike

Small mouth
Wide bowl
Stemless

Thick seams spoil aesthetics
---
14. Ravenscroft Amplifier Tasting Glasses
Features
Red and white wine
400ml
6 x 6 x 5 inches
Something slightly different as we edge to the end of our wine glass reviews. This crystal tasting glass is designed to help you taste wines on your next tour of wine vineyards or cellars.
Ravenscroft crystal is used by wine tasters, and these glasses are unbeatable for enhancing the bouquet of any wine.
Now, these are not initially the easiest glasses to drink from, but it's worth mastering the simple technique. You should only pour 2oz of wine into the glass – remember, it's a tasting tool. Grasp the glass between two fingers and swirl it around so you aerate the wine. Push your nose deep into the glass then breathe in the remarkably well-amplified bouquet.
It's worth noting that while this glass will bring out the best qualities in your wine, it will also amplify any flaws.
Made from completely lead-free crystal, you can accurately taste all types of wine with this glass.
The attractive gift box makes this a wonderful present for any oenophile in your life. That's if you can resist the temptation not to keep it yourself!
Things We Like
Things We Dislike

Lead-free crystal
Gift box
Thumb and index punt
---
15. Williams Sonoma Sauvignon Blanc Glasses
Features
Sauvignon blanc
350ml
9 x 3.4 x 9 inches
Williams Sonoma produces a variety of striking glassware ideal as a gift for the wine lover in your life. Now, these glasses are not cheap, but you'll be getting great overall value from this prestigious brand.
Choose from a single glass, a set of 2, or a set of 12.
These glasses are expressly designed for white wines. The small bowl and the narrow shape of the glass helps you to focus on the aromas of your sauvignons.
The stem and bowl are made from a single piece of hand-pulled glass. This eliminates the seam lines that can uglify even the finest stemware.
You'll have no problem holding these glasses comfortably. The stem is tall and slender, too, so you won't end up warming your wine as you hold it.
This brand works alongside sommeliers to produce glassware that's designed to bring out the very best in your wine. If you don't mind paying a premium, these are arguably the best wine glasses you can find if you're partial to crisp white wine. What are you waiting for?
Things We Like
Things We Dislike

Sloped sides and small opening
Slender stem
No visible seam lines

Not the cheapest wine glasses
---
Conclusion
If you arrived here today uncertain whether you needed special glassware for red and white wine, we have hopefully cleared that up for you.
White wine should be consumed from glasses with tall stems and a narrow bowl. If you drink mainly red wine, you should look out for wine glasses with much wider bowls. This will allow you to swirl the wine around the glass and appreciate the full gamut of the bouquet.
For wine lovers who enjoy both red and white wine, we review some multipurpose glasses that allow you to drink all types of wine without compromise.
We also included glasses at a variety of price points, as we understand has different needs and priorities with wine glasses. For some people, it's unthinkable to even consider budget glassware. For others, the though of spending a fortune on something you might drop and smash on day one is equally unpalatable. We bring something for everyone today and you should have no problem finding the best wine glasses for you.
Take a moment to bookmark Barnacle Bar before you go and we hope to see you soon!