A lot of people ask us how to store cigars without a humidor.
There are a few different ways that you can do this, and we will discuss them in detail in this blog post.
First, let's start by talking about what a humidor is and why it's important for cigar storage.
What is a Humidor?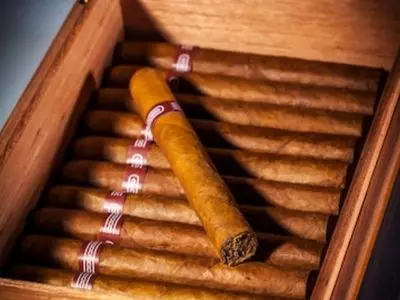 A humidor is an airtight container designed to store cigars at a constant level of humidity.
By regulating the level of humidity, a humidor prevents cigars from drying out or becoming too moist, both of which can adversely affect the flavor of the cigar.
In addition, a humidor helps to preserve the cigar's aroma and protect it from damage. A well-maintained humidor is an essential tool for any cigar aficionado.
Most humidors use a combination of Spanish cedar and mahogany to line the interior, which helps to absorb excess moisture and provide a pleasing aromatherapy for your cigars.
If you're serious about preserving your cigars, then investing in a quality humidor is essential.
That said, a humidor isn't the only option for storing cigars.
Read our related article where we review the Best Humidor for Cigars. These options are great for beginners and veteran smokers alike.
Ideal Conditions for Storing a Cigar
If you're interested in learning how to store cigars without a humidor, there are a few things you should take into account to ensure your cigars are kept in the ideal conditions.
Temperature and Humidity
First, you'll want to make sure you have the ideal temperature for cigars.
The temperature is between 68 and 72 degrees Fahrenheit, and the humidity level is between 68% and 72%.
Light Exposure
Next, you'll want to find a dark place to store your cigars, as too much light can cause them to lose their flavor.
Air Exposure
Finally, it's important to keep your cigars in an airtight container (such as a Tupperware container or Ziplock bag).
This will help them retain their flavor and prevent them from drying out.
Whenever you adopt any method to store your cigars other than a humidor, make sure that these conditions are satisfied so that your cigars are always in perfect condition.
Read More: How to Smoke a Swisher Sweets. Enjoy the fruity flavors of Swisher Sweets cigars by smoking them the right way!
How to Store Cigars Without a Humidor
Learning how to store cigars without a humidor can be tricky, but it's possible.
The most important thing is to keep the cigars in an environment that's not too dry or too humid.
If you don't have a humidor, cigars should be stored in an airtight container in a cool, dark place. That way, they can last for several weeks in a cool, dry climate.
Here are some of the good ways to do this:
Ziplock Bag With A Damp Sponge
A Ziplock bag with a damp sponge is an effective and easy way to store cigars.
The sponge provides the perfect amount of humidity, and the Ziplock bag keeps the cigars fresh and protected from oxygen.
The cigars will stay fresh for months using this method, and the process is simple and convenient.
Put the cigars in the Ziplock bag and add a damp sponge.
Seal the bag and store it in a cool, dark place.
When you're ready to smoke, remove the cigars from the bag and enjoy.
Using a Ziplock bag with a damp sponge is an effective and easy way to store cigars, and it's a great way to keep your cigars fresh for months.
The video below further discusses how to use a Ziplock bag or Tupperware container to store cigars:
Read our related article where we put the Best Cigar Cooler Humidor to the test!
Dark Place To Store Cigars
A dark place is critical for storing cigars.
Cigars are mostly made of tobacco leaves that are rolled together and sealed with gum, and the aging process of the cigar begins after it's rolled.
This is when the chemical and physical properties of the tobacco blend change, often for the better.
The flavors become more distinct, and the overall strength of the cigar decreases.
However, this aging process can only happen if the cigars are stored in ideal conditions, and one of these conditions is darkness.
Too much light exposure will cause the cigar to dry out and lose flavor.
For these reasons, it is essential to find a dark place to store cigars if you want them to age properly and taste their best.
A Regular Check
Regularly checking on your cigars is important for a few reasons.
For one, you want to make sure that the cigars are fresh and haven't gone bad.
Second, you want to make sure that the cigars are receiving the proper amount of humidification.
Third, you want to make sure that the cigars are in the right environment – too much or too little humidity can ruin a perfectly good cigar.
Finally, checking on your cigars regularly allows you to catch any problems early on and address them.
So, how often should you check on your cigars? Once a week is a good rule of thumb.
By taking just a few minutes out of your week to check on your cigars, you can ensure that they're always in tip-top shape.
Rotate Your Cigars
You can also keep your cigars fresh by frequently rotating them.
That way, the cigars at the bottom won't be crushed under the weight of those above.
Just make sure you don't touch or handle your cigars too much, as the oils from your fingers can alter the cigars' flavor.
By taking these precautions, you can ensure that your cigars stay fresh and flavorful without the need for a humidor.
Conclusion
Cigars are a luxury item and should be treated as such.
When stored properly, they will last for years and provide you with many pleasurable smoking experiences.
However, without a humidor, cigars can dry out and become harsh and unpleasant to smoke.
Yet, there are a few different ways to learn how to store cigars without a humidor.